Judy Chicago in front of Wo/Manhouse 2022. Photo © Donald Woodman
(Left) Judy Chicago, Cock and Cunt Play from Womanhouse, performed by Faith Wilding and Jan Lester, 1972. (Right) Judy Chicago, Cock and Cunt Play, performed by Logan Jeffers and Jerah R. Cordova, 2022. Photo © Donald Woodman
Last weekend marked the end of Through the Flower's 50th Anniversary Celebration of Womanhouse, which involved two exhibitions along with Saturday night performances, both historic and new (for example, the Cock and Cunt Play, originally performed by women was presented by men). This reversal made the absurdity of rigid gender roles ridiculously clear. At Through the Flower Art Space, we mounted a show documenting the 1972 installation, which included my reinstallation of the Menstruation Bathroom along with the screening of Johanna Demetrakas' widely seen film. The other exhibit took place a few blocks away in a perfect 1950's domicile which was turned into contemporary installations by nineteen New Mexico artists from across the gender spectrum. These artists – who were selected from ninety applicants – were diverse in age, ethnicity and perspective.
(Left) Judy Chicago, Menstruation Bathroom, 2022, mixed media. (Right) Looking Back at Womanhouse at Through the Flower Art Space, Belen, NM. Photos © Donald Woodman
In April, I had organized a Performance Workshop for the development of the new plays, which were then rehearsed by Megan Malcolm-Morgan, the Executive Director of Through the Flower. Although I am not a performance artist, I first began doing these workshops in Fresno, in the 1970s at the first feminist art program (that I established at UC Fresno, then known as Fresno State.) It quickly became clear that my female students felt quite comfortable 'performing', probably, the consequence of years of 'performing' the construct of femininity. I found these exercises extremely helpful in guiding them into the process of finding their individual voices along with discovering subject matter for their art.
This time, I brought these same processes to bear on working with both women and men. I found it very moving to work with the participants as they expressed the many ways in which gender expectations had damaged them all. In fact, some of the most interesting pieces grew out of the men opening up (often for the first time) about the ways in which their fathers had pressured them around issues of masculinity. (Although there were several trans artists in the project, none joined the Performance group). As had happened in the original Womanhouse, the audience often found these plays particularly affecting, probably because there was a sense of personal engagement along with the direct expression of emotion.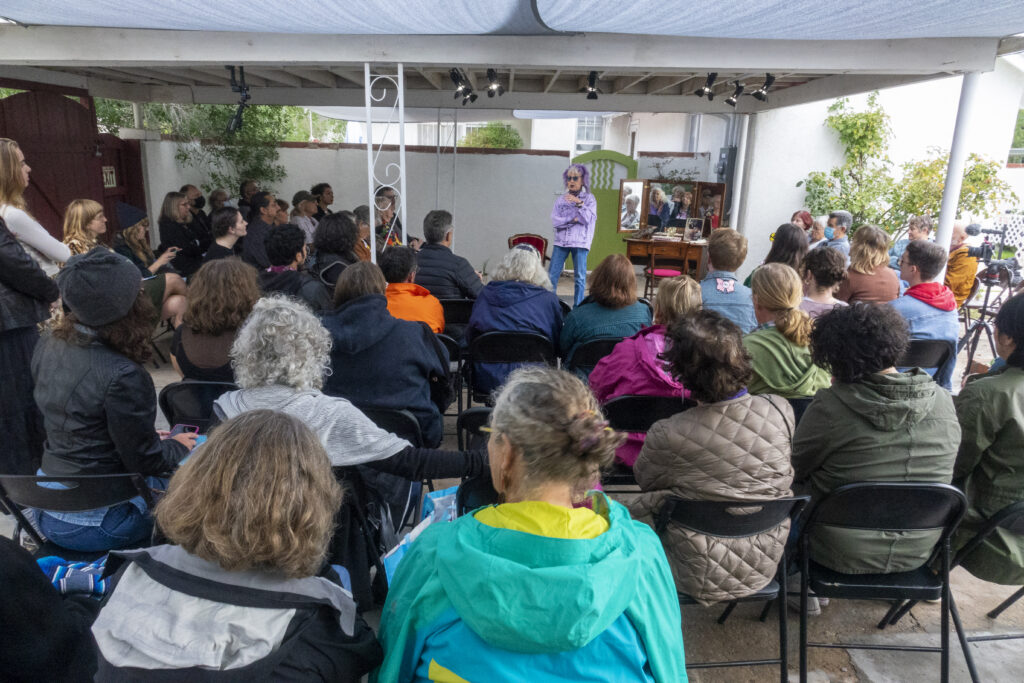 Over the course of the three and one half months that Wo/Manhouse 2022 was open, we had hundreds of visitors including folks who flew in from other parts of the country. Although there were a few slow weeks, by the end, the exhibitions and the performances were packed. Many people cried and others evidenced deep responses, which was gratifying to everyone. People came from all over the country including two couples who (separately) took a red eye plane from the East specifically to see the shows and the performances. I thought I'd share some of the comments in our comment book;
A photo journalist from California took time off from her regular news beat and found Wo/Manhouse 2022 so moving that she plans to come back in November for one of the programs we are planning in relation to our next show.
A visitor from San Francisco said about the contemporary installations: "Every room was jaw-dropping and so compelling."
Another woman from Montreal wrote: "Such an amazing experience." and thanked us for "opening her eyes."
Closer to home, there were numerous viewers from across New Mexico who stated that the work was "exquisite, tragic, thoughtful, heart consuming" or "one of the best exhibits" the person had ever seen. Another viewer thanked us for the project's 'gender inclusivity."
Visitors at Wo/Manhouse 2022 in Belen, NM. Photos © Donald Woodman
Moreover, many people spent hours in the exhibitions, which is very unusual as contemporary art shows usually engender brief viewings. In this time of too much market-driven or overly conceptual digital art, it was reassuring to witness the effect actual art experiences can engender. I first learned about the potential power of art from The Dinner Party, which inspired people all over the Western world to organize exhibitions of the piece on their own in response to museums' refusal to show it. That experience has been reinforced many times over the course of my career as I witnessed viewers having deep aesthetic and sometimes life-changing moments in relation to my work. Seeing this same process at work at Wo/Manhouse 2022 was very affirming for me.
As part of the celebration of Womanhouse, the Judy Chicago Art Education Award Funded by MaryRoss Taylor will be presented to Tressa Berman of Ojai, California at 2 PM on Sunday, November 6th. Tressa is a consultant, coach and teacher at the Institute of Inter-Cultural Practice and her project will explore how the present and past Womanhouse projects inform and constitute feminist place-making through collaborative art. Last year's recipient, Courtney Uldrich, Collections Curator at New Mexico State University, will present the award. Courtney's project was an exhibition at NMSU titled "Establishing Our Own Art History: The Influence of Judy Chicago". Although the TTF event will be by reservation only, it will be livestreamed via my instagram (@judy.chicago) as well as Through the Flower's (@throughtheflowerartspace).
(Left) Diane Gelon, Judy Chicago, Courtney Uldrich, and Megan Malcom-Morgan, 2021. (Right) 2022 Judy Chicago Art Education Award Winner Tressa Berman.
By the time of the award ceremony, there will be a new, timely exhibition on view at TTF titled "Lessons for Today: Revisiting The Dinner Party", which will open the previous day, Saturday, November 5th from 12 to 5PM Mountain Time. The show will consist of illustrated panels about each of the thirty-nine women at the table along with several rare Dinner Party test plates, drawings and archival material as well as a virtual tour narrated by me. On opening day, there will be a special event at 3PM with me and Diane Gelon, who worked for years as The DP coordinator and is now a tax attorney living in London and is President of the Board of TTF. Diane and I will present a powerpoint about the studio and discuss how many of the 400 women and men who worked with us were empowered by the (then unknown) information about women's history that it conveys.
With the current reversal of women's rights and the overturning of Roe v. Wade, I believe that there is an urgent need to revisit the women represented in The Dinner Party in order to use their struggles and triumphs as a model to inspire people to stand up to an antiquated and patriarchal ideology as there is much to learn from their experiences. Moreover, the collaborative practices that I pioneered (and were the basis of both Womanhouse projects) demonstrate how important it is for men and women to work together in order to make change. And change is imperative now as we watch the positive gains of the last fifty years being steadily overturned by the radical right and the Supreme Court.
(Top) Diane Gelon and Judy Chicago in The Dinner Party studio, Santa Monica, CA. (Left) The Dinner Party needlework loft, Santa Monica, CA. (Right) The Dinner Party ceramics studio, Santa Monica, CA. Photos courtesy Through the Flower Archives
Judy Chicago, The Dinner Party, 1979, Elizabeth A. Sackler Center for Feminist Art, Collection of the Brooklyn Museum. © Judy Chicago/Artists Rights Society (ARS), New York Photo © Donald Woodman/Artists Rights Society (ARS), New York