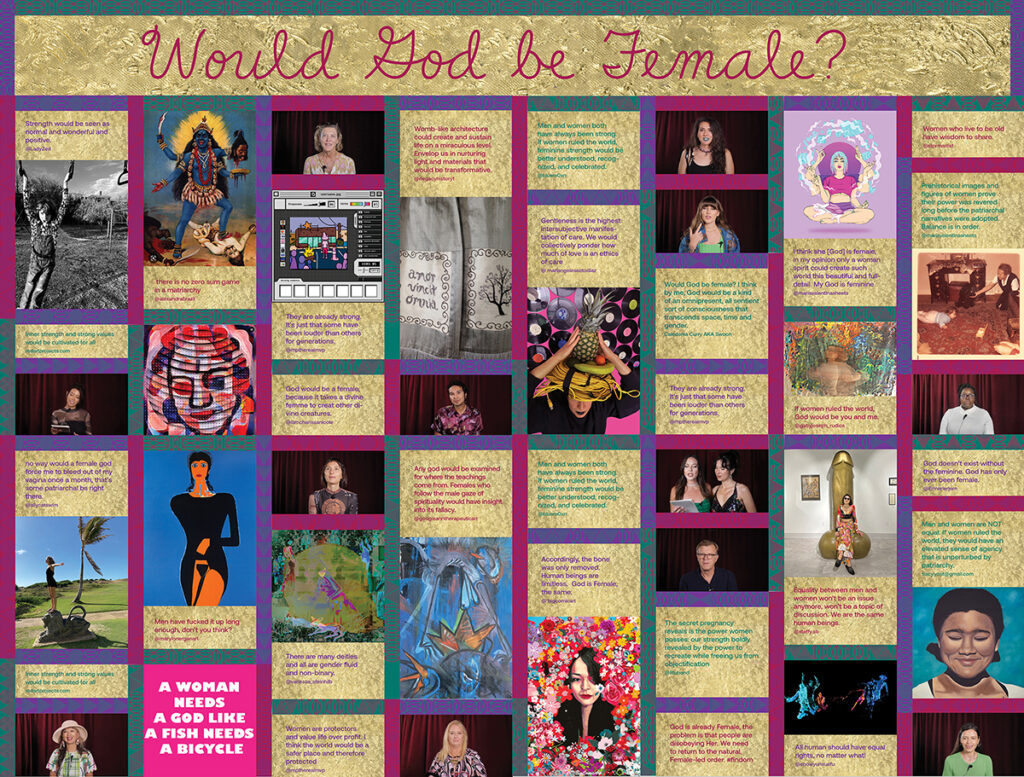 Judy Chicago, Digital Quilt in progress, presented by DMINTI
Over the course of my career, I have done a number of major projects. Many of these have taken on a life of their own and my relationship to what I've initiated has often been; Wait for me. This is certainly the case with What If Women Ruled the World?, which began as a monumental installation for Maria Grazia Chiuri's January 2020 couture show, held in the back of the Rodin Museum in Paris. As the first female director of Dior, Maria Grazia has somehow managed to bring a feminist perspective into the famed house, involving many women artists and photographers in her enterprises. Since that installation, my banners have been exhibited at Jeffrey Deitch's New York gallery where they were acquired by collector and philanthropist Jordan Schnitzer. Subsequently, they were shown at the National Museum of Women in the Arts (NMWA) Gala honoring me and Maria Grazia and in my first retrospective at the de Young Museum in 2021. They will also be included in Massimiliano Gioni's major exhibition of my work this fall at the New Museum.
(Left) What If Women Ruled the World? installed at Jeffrey Deitch Gallery, New York. Photo by Genevieve Hanson. (Right) Installation view of the International Honor Quilt, Melbourne, Australia, 1988
They are, of course, the basis of the ongoing collaboration between me and Nadya Tolokonnikova, which I discussed in the last Chicago Gazette and was launched at the Miami ICA during Art Basel. The response was incredible; at the end of our program, many audience members rushed to the video booths that were set up to record their answers to the questions posed in the banners. Those who watched the live streams sent in their thoughts via videos, written texts, and surprisingly, art, which is not something we anticipated but are extremely excited about. DMINTI (which supports artists and cultural figures in expressing their vision through advanced digital technology) has been creating a large digital quilt (reminiscent of the International Honor Quilt, instigated by me in the early 1980s) that weaves together all of these responses in an ever-growing virtual tapestry that is now reaching beyond the United States.
This month, the project has expanded into Mexico and is our first foray into another language, Spanish, as part of the Mexico City Art Week, with plans to include other countries as soon as we can. Moreover, DMINTI is developing a metaverse based on the "Female Divine" Goddess structure that will offer people the opportunity to enter her "body", inside of which virtual banners will be hung. Visitors will then be able to choose which question they want to explore and discover other's responses and then contribute their own. In these efforts, we have had the support of Dior who sponsored the Miami event and continues to work with DMINTI as we push web3 technology into the service of meaning rather than being money-driven as too much of it is.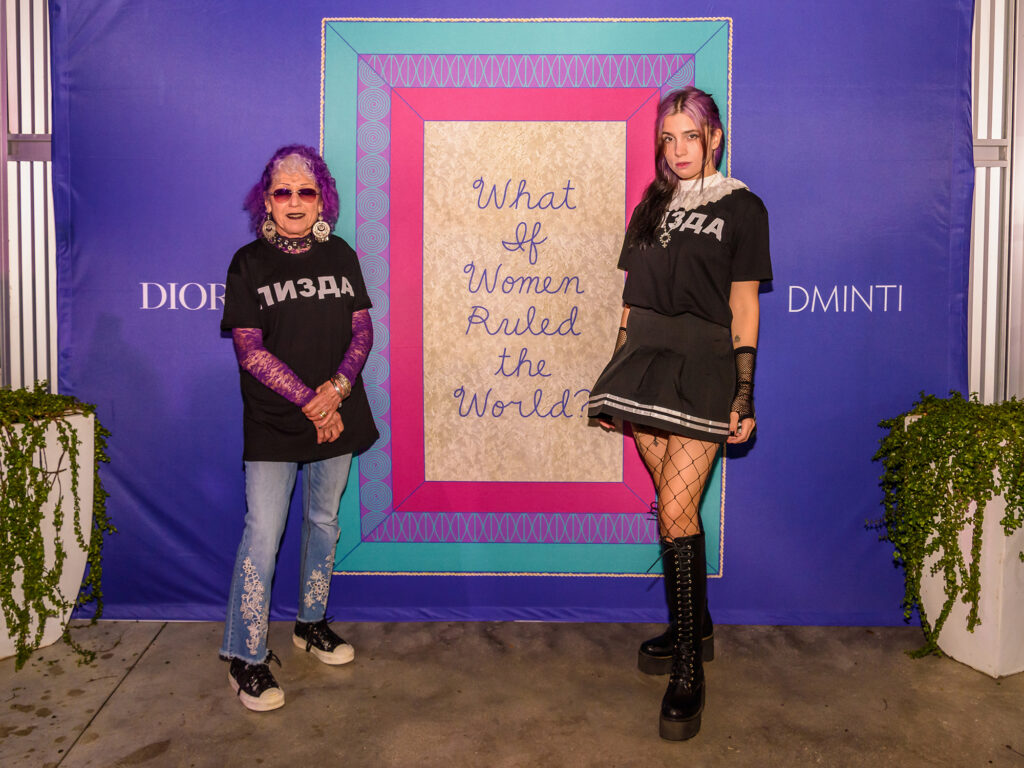 (Top) Judy Chicago and Nadya Tolokonnikova at the launch of What If Women Ruled the World? at ICA Miami. Photo by Brinson Renda. (Left) Alex Gartenfeld, Nadya Tolokonnikova, and Judy Chicago onstage at ICA Miami. Photo by Isabella Danzi. (Right) Crowd at the launch of What If Women Ruled the World? Photo by Isabella Danzi.
In addition to this project, I am extremely busy, something that will continue all year as we gear up for the New Museum show. In April, I am being honored at the museum's Gala. And of course, I am in near-constant contact with Massimiliano and his superb team, which is a joy as he is an incredible curator. The show he is mounting will contextualize my work in centuries of unknown histories and also – through the catalog (to be published by Phaidon with many luminary art writers) – demonstrate my world-wide influence, something that DMINTI is discovering as they expand participation. They have told me that many people express great enthusiasm about having the opportunity to work on one of my projects.
Along with the Phaidon catalog, the Jordan Schnitzer Family Foundation will be publishing their catalogue raissonne of my prints (Jordan acquired my print archive three years ago), which includes a brilliant essay by the eminent Glenn Adamson (who is also writing for the New Museum publication) on my use of multiple techniques over the course of my career and how I try to push whatever technology I become involved with (which is happening again with my collaboration with Nadya.) And Thames & Hudson is releasing my definitive autobiography, The Flowering, in paperback in the summer, which will hopefully make 'my story' available to a wider audience.
(Left) Judy Chicago: The Inside Story, Cover design by Judy Chicago in collaboration with Phil Kovacevich (Right) Judy Chicago, The Flowering, 2021.
The reason that I mention this is because I believe that my book offers hope in that it documents my long, hard, sixty-year struggle to introduce my feminist vision into an often uncomprehending and even hostile male-centered culture. As a young girl, my goal was to become part of art history, a goal that was amplified by my discovery about how many contributions by women, people of color and LGBTQ+ folks have been erased. My singular focus was to overcome that historic erasure and also, to make a contribution to a better world, which is what my father inspired me to try and do. Even though we are in a dark time right now, it is my fervent hope that this will change; that we are seeing the last gasps of a destructive patriarchal order that will be replaced by greater equity for everyone – along with all our non-human companions on this planet.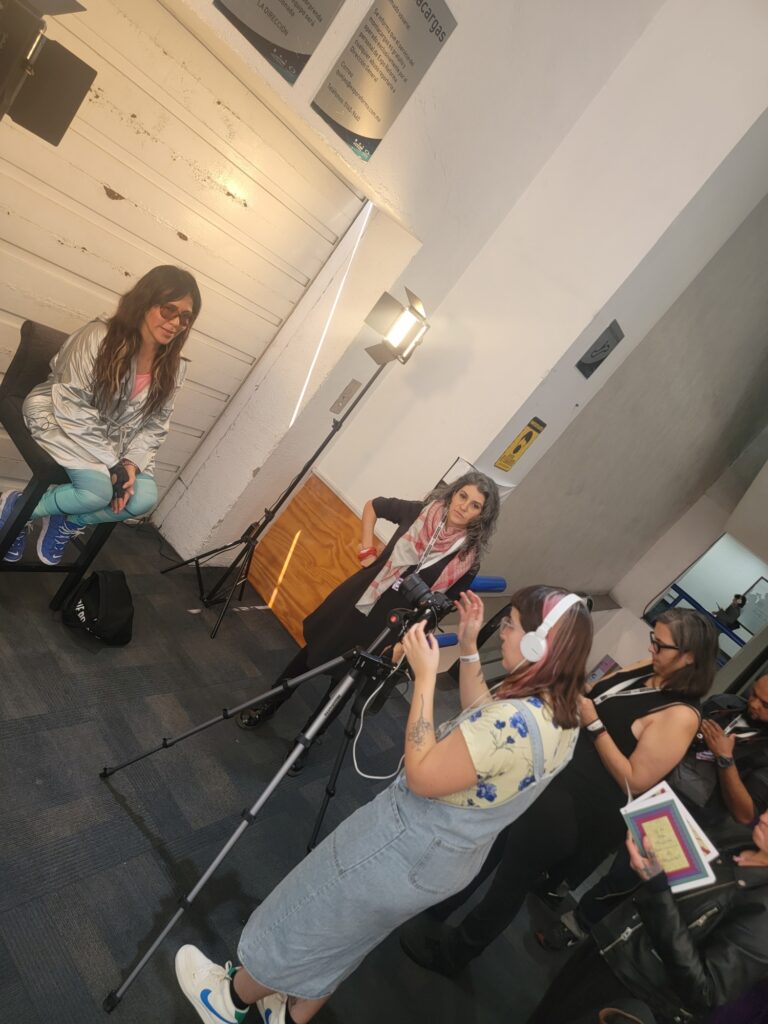 What If Women Ruled the World? participants submitting responses at Material Art Fair in Mexico City, Courtesy of DMINTI
Nadya and I now call on you to respond to our project. All who share feminist values are invited to come together and make their voices heard at this urgent time for everyone who believes in equality and justice and is unwilling to let us go backwards.